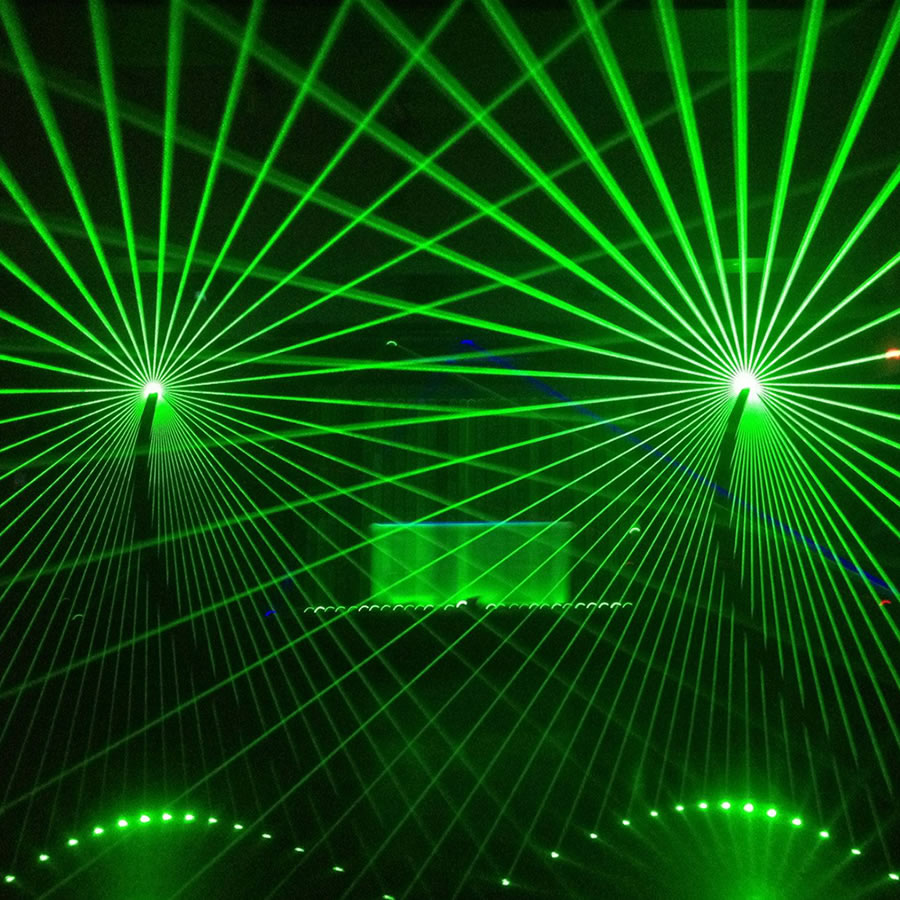 Bring the nightclub home!
Lasers are a great way of planning a party that feels like a nightclub at home and can suit a wide array of budgets. In this post we will talk you through the best option for all budgets and event sizes.
Picking the best colour for your event.
We have lasers in a wide range of colours including, dark blue, cyan (light blue), red, green, yellow, pink and full colour. Of course if you have a colour theme for your party then picking a colour makes it easy but if you dont hopefully this information will help you make a decision!
The colour most visible to the eye is Green so if you are going for a standard laser rather than an animation laser then Green is a great way to go and its the colour most people think of when they think of lasers. Red is great for themes like halloween however if you were to mix it with another colour like Green the red laser would need to be of greater strength. For example you would need a 1watt red laser with a 50mw green laser and they would look great together.
If you are looking for something different blue lasers look great and can be great for a winter wonderland theme.
Mixing colours..what works best?
If you want to hire a couple of lasers the best colour matches are red and blue and green and blue or for example you may have 1 green laser to the left a blue in the middle and another green laser on the right…it all depends on how laser mad you are!
Do you need a standard laser or animation laser?
We have 2 styles of laser available, our standard laser and larger animation lasers. If you are just having a party at home or in your garage for example then our standard lasers available in yellow, red, blue and green will work really well. If however you are holding an event at a hall, club or venue or in a larger space then you would need to hire the larger animation lasers.
What if you can't have or dont want a smoke machine?
Without a smoke machine then lasers will not be the right option for your event.  Lasers need the smoke to make the laser beams visible and without the smoke you will just see squiggly lines on the wall. In the case you are planning an event and can't have smoke machine there are still plenty of lighting options so call us today on 0433 501 613 and we can help!
Need more advice?
At Lights To Party we have been setting up and consulting on parties and events since 2009, we know what works and we use our creative flair to ensure we can plan a party for you that is sure to impress. Get in contact with us for free advice and let us help you plan your party and provide professional advice on what will work for your party or event and take the stress away! Reach out on 0433 501 613 or fill out our online form to get a quote and advice on making your event one that will have everyone talking!