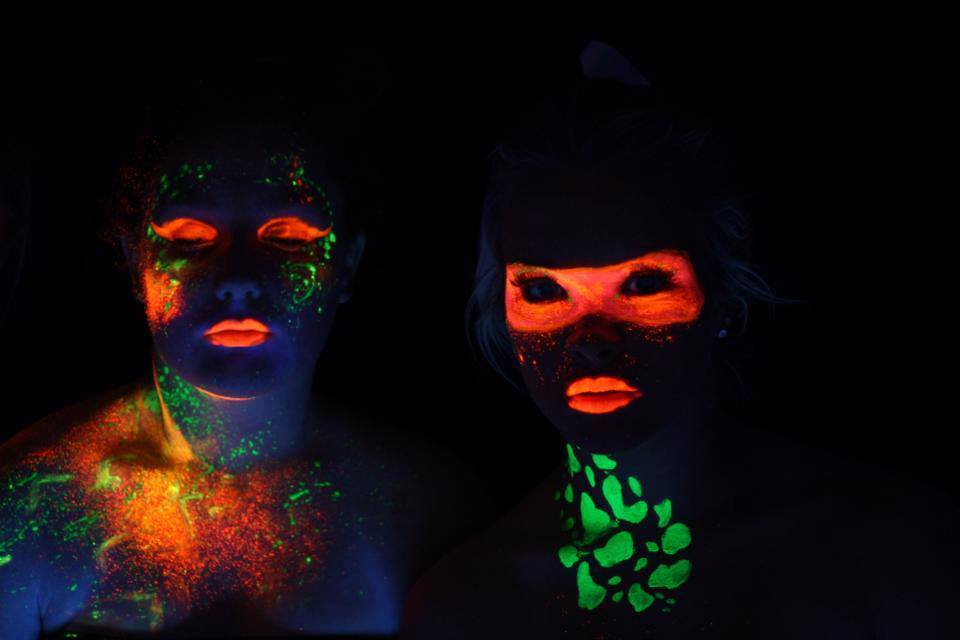 Your guide to planning a great UV party
UV/Black light parties are one of the most common parties we set up but often clients are unsure how to get the best effect and how to decorate, so in this blog we will help to answer all your black light party questions!
Can I still have other lighting on with UV lights?
One of the main concerns people have when planning a uv or black light party is if there will be enough light to see if all you have on is the black light.
This really depends on how your party space is planned out. For example if you are just having a UV party in your garage or particular room in the house, and you really want it for dancing and atmosphere so everything glows, the UV lights will be enough to create an awesome effect. However, if its a large space and you will also be serving food and drinks its a good idea to have a little extra lighting. This can be achieved in a couple of ways;
Add some disco lights. By adding a crystal ball disco light this will put lots of colourful dots around the walls and ceiling and won't take away from the uv effect. See a video here:https://lightstoparty.com.au/product/led-crystal-ball/. You could also add or have instead a dance floor disco light like the LED Moonflower disco light – This won't take away from the glow effect either but gives you a fun way of adding some lighting to the floor to see a bit better and also gives you a fun dance floor light. See the video here: https://lightstoparty.com.au/product/led-moonflower-disco-light/
Add some up lights around the room. If you feel for some added safety you want some extra lighting around the room but don't want disco lights you can use our battery powered up lights. These too can be set to UV or a blue colour which I think goes well with the UV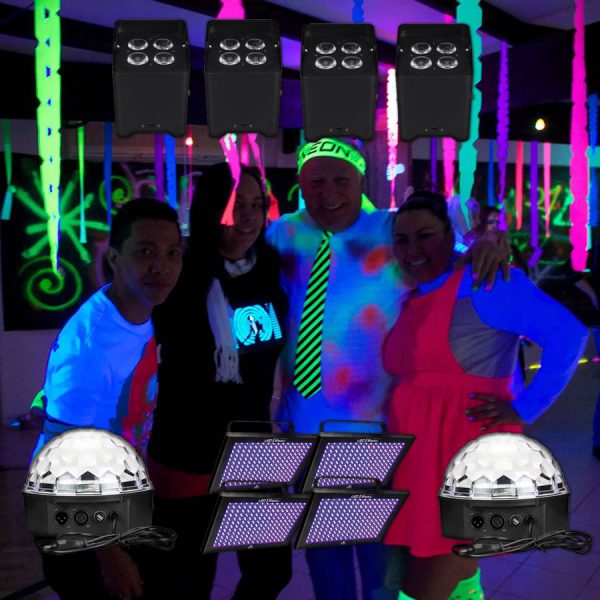 Which type of UV light is right for my space?
There are multiple options for UV lights which can make it confusing to know which is right for your space so here we will try our best to give examples for the right option in a few different scenarios.
In any scenario ideally UV is best at an indoor party or outdoors if enclosed in marquee or similar.
Small room or venue space
If you are just throwing a UV party for a small group in a room inside your house or small event space, our UV Batons are a great option and a bit cheaper than the LED option. They are a fluorescent tube and give a true UV effect as they are globed.
Larger space, hall or large garage
If you are throwing your party in a larger space like a hall, or perhaps a double car garage our UV Panels are the best option. The reason for that is because they are LED they are much brighter. For a double car garage we would suggest 2 or more and for a hall or larger venue space would be 4+. The best way to know for sure is give us a call and we can guide you through it.
Up lighting props
If you are in a house or event space that has pillars for example that you might be wrapping in UV string or streamers our battery powered up lights are a great option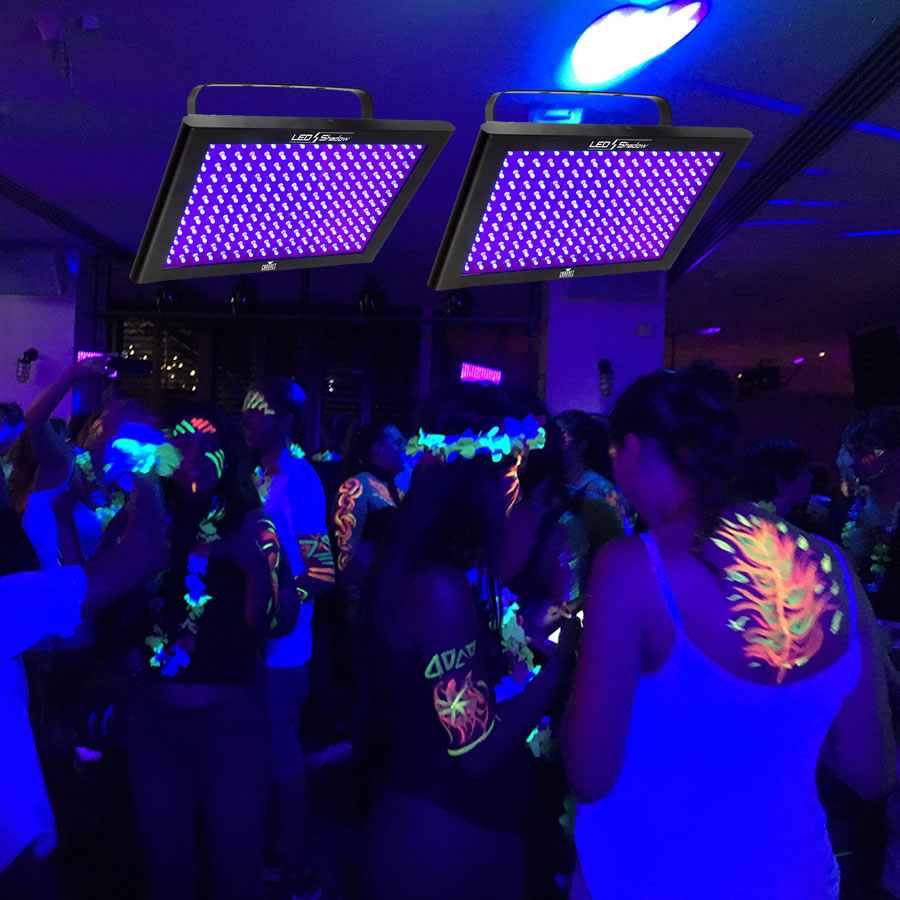 What are the best props/decorations for a UV party?
The great thing about a UV party is it suits a wide array of age groups and party themes and best of all you don't have to spend a lot to add some decorations that will really add to the effect. Below are a few of our favourites:
Water Balloons 
Yes believe it or not blowing up fluro water balloons and just letting them sit on the ground or hanging them up works really well under UV light and will only cost a couple of dollars!
Brickies String
Brickies string can be purchased from your local Bunnings and looks great under UV lights – great to string across beams like you would with festoon lights. https://tinyurl.com/y2k9yk4o
Fluro streamers
Neon or fluro streamers are also a great cheap way of decorating your space, let them hang or wrap them around pillars etc. See: https://tinyurl.com/y47mm9rl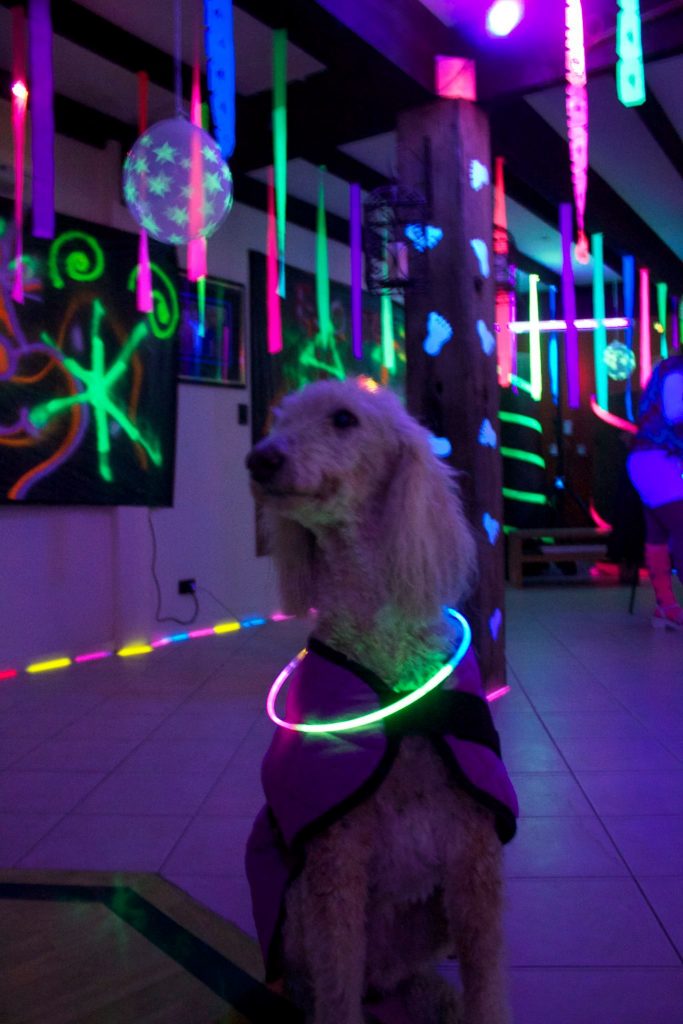 Need more advice?
At Lights To Party we have been setting up and consulting on parties and events since 2009, we know what works and we use our creative flair to ensure we can plan a party for you that is sure to impress.
Get in contact with us for free advice and let us help you plan your party and provide professional advice on what will work for your party or event and take the stress away!
Reach out on 0430 001 613 or fill out our online form to get a quote and advice on making your event one that will have everyone talking!